Parks Associates' new report
Driving 4G Adoption: Global Mobile Innovation
finds Asia & Pacific will claim over 53% of all 4G/LTE subscribers by the end the year, helping push the total number of subscribers over 560 million globally by 2016.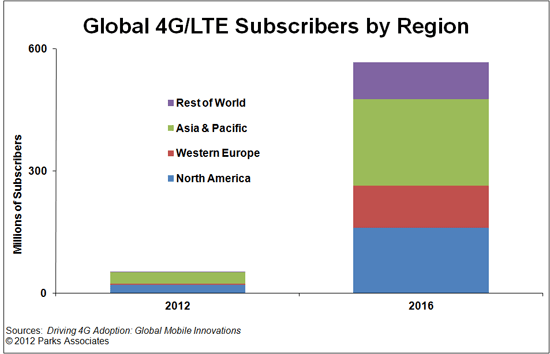 Park Associates:
- in 2016, 4G/LTE subscribers will account for 8.8% of worldwide mobile subscriptions
- 61% of U.S. mobile phone users have some knowledge of the term "4G", but only 20% understand the term "LTE"
Jennifer Kent, Research Analyst, Parks Associates, - "Verizon Wireless recently introduced its ShareEverything plan, which allows users to share one data quota across multiple mobile broadband devices. Share data plans should encourage subscribers to add more mobile devices, while offering unlimited text messaging mitigates the threat of third-party messaging services like Whatsapp."
\
parksassociates.com